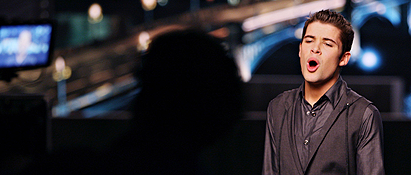 Hi Everybody,

Sorry it's been a while.  It's been a fun couple of weeks for me. I got to record my part on the Helping Haiti – Everybody hurts charity single.  I still can't believe that I'm on the same record as people like Mariah, Rod Stewart and Leona, it's such an honour!  I also got to see Westlife again which was nice. I really do hope though that it will help lots of people in Haiti.  Please please please buy a copy of the single when it comes out.  It's for a great cause and we all need to help Haiti as much as we can.

Yesterday, we filmed my part of the video.  The director is amazing and I got to watch some of the footage that the other singers had shot before me – Cheryl, Kylie and Westlife – it looked fantastic.  Also, I got to meet Mika as I was leaving the studio – he was just arriving to do his bit!

I went to see Wicked yesterday at the Apollo Theatre.  I love that musical – it's so clever.  And, I got to meet the cast after the show – they were lovely!

Right now, I'm sitting at the rehearsal studios for the X-Factor tour.  I'm just on a quick break and we've gone through my set for the first time.  I am so excited!  You guys are going to love it!  I meet up with the other contestants next week – can't wait to catch up with everyone.

Not long until the Brits now…I'm still soooo excited that I've been nominated – I can't believe it. Thank you for all the support and helping me get a nomination for the Brits. You can still VOTE NOW!

Okay, better get back to rehearsals now – Bye!
Remember to vote Joe for Best British Single over at the BRIT Awards website, or click here! Voting closes Sunday, so make sure you've voted!
Also, a small reminder that the Hope for Haiti charity single is released digitally on Sunday and physically on Monday. Please make sure you pick up a copy somehow – it's for such a good cause.

Tour rehearsals are officially starting!! Who's excited? Joe revealed this morning on his Twitter page that he's getting ready to begin rehearsals for the mammoth X Factor tour, which kicks off in under 3 weeks in Liverpool!
Been for a run gunna start packing now I need to take everything gunna be away on the tour for a long time we're to start haha!! about 5 hours ago from UberTwitter

Nearly time for london again !!! Wots everyone been up too ? X about 17 hours ago from UberTwitter
Remember you can follow Joe or read his updates over at his official Twitter page!

Austin Hargrave
Simon Cowell's all-star charity single in the aid of Haiti relief will premiere tomorrow morning on breakfast radio. Tune into any after 8am to hear the single, which also features Joe on the track!
Joe sings the lines 'Hold on, hold on….' in the first half of the song. If you miss the premiere, don't worry! We'll post a YouTube link so you can hear it again.
Remember that the single is out to buy on download Sunday 7th February, with the physical release following the day after Monday 8th February! All proceeds are split between charities funding Haiti relief efforts, so please make sure you legally purchase a copy.
The cover of REM's "Everybody Hurts," organized by Simon Cowell to raise money for the victims of the Haiti earthquake, will be released Feb. 7.
The BBC reports that the song features Robbie Williams, Mariah Carey, Rod Stewart, Kylie Minogue, Miley Cyrus, Michael Buble, Jon Bon Jovi, Take That, Mika, James Blunt, James Morrison, Susan Boyle, Westlife, Cheryl Cole and boy band JLS. "X Factor" winners Leona Lewis, Alexandra Burke and Joe McElderry also guest on the track, recorded this week and organized by Syco label boss Cowell.
It is set for digital release Feb. 7 and CD release the day after. Proceeds will go to the Sun newspaper's Helping Haiti fund and the Disasters Emergency Committee.
Source – Billboard
Posted On:
January 29, 2010
| Filed Under:
Website
I'd just like to apologise for the downtime lately. The server that hosts this website was experiencing problems and as a result, every website, not just this one, on their server was unaccessable for a few hours. I think it has been fixed now and the forum should be back soon.
Thanks for sticking with us!

Joe has started to tweet a lot more lately! Today he revealed he's returning to London (yay!) next week to begin tour rehearsals and work. Boy's going to be a bit busy!
Sorry for lack of tweets. Had a busy day! Hope ur all good. X tour is very sooon !!!! 3:12 PM Jan 27th from UberTwitter

Mornning! Thanks to those of you have voted for me for a brit really appreciate it. Still can't actually believe I'm nominated!!! X 2:26 AM Jan 28th from UberTwitter

Looks like thher gunna be snow!!! Its like a blizzard here. about 4 hours ago from UberTwitter

Maybe not its stopped haha! X about 4 hours ago from UberTwitter

Is back down to london next week start working and busy again yeahhh! X about 4 hours ago from UberTwitter
 X Factor winner Joe McElderry has confirmed that he would be willing to visit Haiti in order to help relief efforts in the earthquake-stricken country.
The 18-year-old is one of the stars who are taking part in Simon Cowell's charity single to raise funds following the recent disaster.
Speaking to the Daily Star, McElderry commented: "Of course I'd like to go over and help. It's been highly documented and affected so many people – it's a worthy cause to get on board with. People have lost everything and they need some serious help."
Source: Digital Spy

Joe just minutes ago confirmed his involvement with the Simon Cowell Haiti charity single! We were unsure for a few days but now we know he's definitely a part of it alongside Mariah Carey, Leona Lewis, Miley Cyrus and many more.
joemcelderry91 Just finished recording my part for the haiti single! Really honourned to be apart of it Such an amazing song hope its raises lots of money 1 minute ago from UberTwitter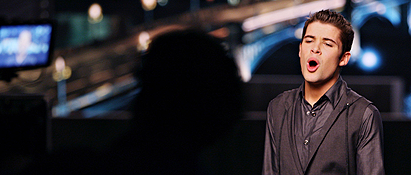 …well according to the Daily Mirror anyway! Joe tweeted today saying he was heading to London, but didn't explain what for.
Daily Mirror wrote the following:
"The first stars to record their parts to the cover of REMs Everybody Hurts were JLS and Cheryl Cole on Saturday.

Yesterday Leona Lewis added her voice. Miley Cyrus, Take That, Westlife, Rod Stewart and X Factor winner Joe McElderry will record today. Mariah Carey will take part in the next few days.

Cowell, 50, said: "I'm incredibly grateful to everyone. It's a race against time but were trying to get the record out as soon as possible.""